Biogas Power Generation and Composting: Wakkanai Municipal Kitchen Waste Intermediate Treatment Facility
2015.3.31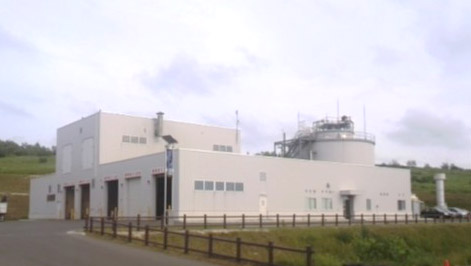 Complete view of the Wakkanai Municipal Bio Energy Center
The work involved monitoring the operation and management of a kitchen waste treatment facility constructed by the Wakkanai Municipal Authority using the PFI method.* This kitchen waste treatment facility (Wakkanai Municipal Bio Energy Center) accepts kitchen garbage and effectively uses such waste for power generation utilising the retrieved biogas produced through fermentation and also for composting.
The retrieved biogas is also used as fuel for garbage trucks.

*PFI (private finance initiative) method: implementation of public work by the private sector which uses its financial capability and know-how as the principal implementing body.
Project concept
| | |
| --- | --- |
| Work title | Consigned Monitoring of the Operation and Management of Kitchen Waste Intermediate Treatment Facility |
| Location | Shinko Town, Wakkanai City, Hokkaido |
| Duration | April 1, 2012 to March 31, 2015 |
| Implementing body | Wakkanai Municipal Authority, Hokkaido |
Biogas Power Generation and Composting: Wakkanai Municipal Kitchen Waste Intermediate Treatment Facility