Supervision of Construction Work of the Sakai Municipal Clean Center
2018.3.31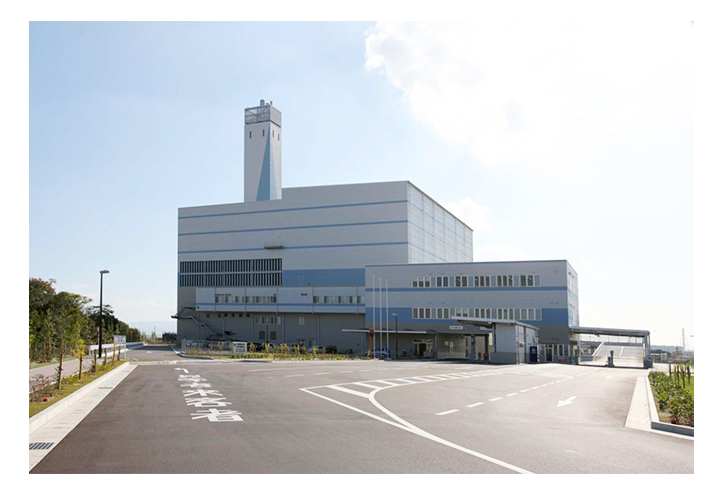 This work involved the supervision of the construction of an incineration facility as contracted to EJEC by Sakai Clean System Ltd. (SPC), the contractor for the project.
Name of special purpose corporation (SPC)
Sakai Clean System Ltd.

Establishment :

February, 2007

Member companies :

– Nippon Steel Engineering Co., Ltd.
– Osaka Gas Co., Ltd.
– Okumura Engineering Corporation
– Rikou Construction Co., Ltd.
– Daiken Architects Associates
– Nippon Steel Environmental Plant Solutions Corporation
– Kawasaki Heavy Industries Ltd.
[Facility Outline]
Processing capacity :

450 tons/day (225 tons/24 hours x 2 furnaces)

Processing method :

Shaft furnace type gasification melting

Generating capacity :

(Steam turbine generator) 13,500kw
(Gas engine generator) 2,445kw (815kw x 3)

Emission standards :

Dust 0.02g/m³N
Sulphur oxides 20ppm
Nitrogen oxides 50ppm
Hydrogen chloride 20ppm
Dioxins 0.1ng – TEQ/m³N

Site area :

Approximately 30,000m²
Facility name
Sakai Municipal Clean Center Coastal Plant
Location
Chikko-Yawata Town, Sakai Ward, Sakai City, Osaka Prefecture
Work title
Construction of Coastal Plant – Design and Construction Supervision (provisional name)
Duration
Project period: April, 2007 to March, 2033
Assessment period: April, 2007 to March, 2009
Design period: October, 2008 to July, 2010
Construction period: February, 2008 to March, 2013
Operating period: April, 2013 to March, 2033
Project method
PFI (BTO)
Project implementing body
Sakai Municipal Authority
Supervision of Construction Work of the Sakai Municipal Clean Center