General Waste Final Disposal Site of Hachimantai City
~ Coexistence with Natural Environment ~
2012.11.30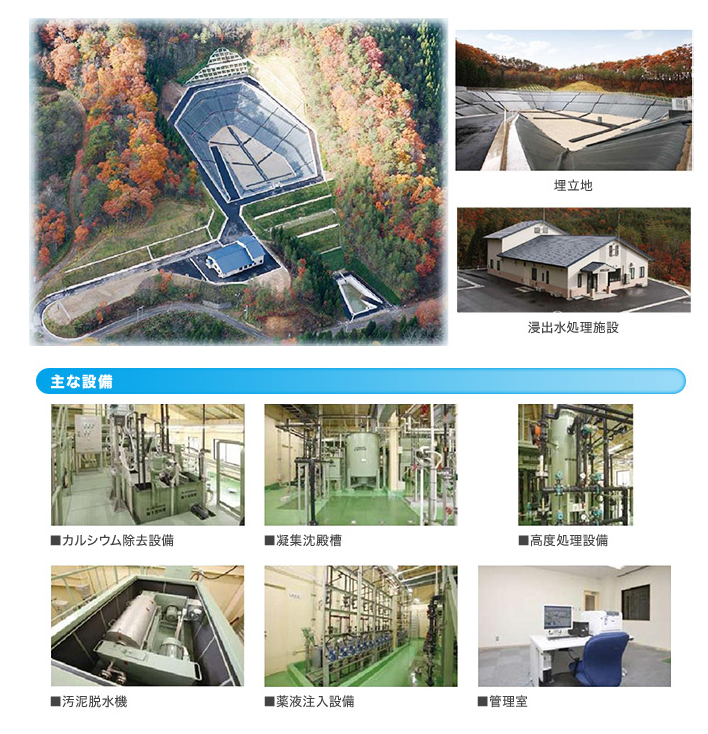 EJEC was responsible for a series of consulting work, ranging from the initial candidate site selection survey to planning, design and construction supervision for Hachimantai Municipal General Waste Final Disposal Site. The principal contents of the work conducted by EJEC up to completion of the facility are listed below.
FY 2005 : 

Preparation of a basic plan for general waste treatment and selection of a candidate construction site

FY 2006 : 

Preparation of a plan to establish and promote a recycling society

FY 2007 : 

Basic plan and basic design for the facility, survey on living environmental impacts

FY 2008 : 

Detailed design, survey on impacts on forest environment

FY 2009 : 

Support for order placement for the construction work

FY 2010 ~ FY 2012 : 

Design and construction supervision
As this disposal site is surrounded by a national forest, careful attention was paid to the layout planning and site preparation design to take into consideration of a harmony with the surrounding rich natural environment.
The construction work was forced to temporarily stop during the construction period due to a winter snow and the 2011 Great East Japan Earthquake. However, the work was completed within the originally planned period due to the cooperation of those involved in the work.
Facility name
Hachimantai Municipal General Waste Final Disposal Site
Work title
Design and Construction Supervision of Hachimantai Municipal General Waste Final Disposal Site
Location
1-808 Matsuo, Hachimantai City
Duration
November, 2010 to November, 2012
Implementing body
Hachimantai Municipal Authority
Facility outline
・Landfill area:5,300 m²
・Landfill capacity:24,700 m³
・Leachate treatment capacity:15 m³/day
・Storage system:Banked dykes
・Water shielding system:Double sheets + Leakage detection system
General Waste Final Disposal Site of Hachimantai City ~ Coexistence with Natural Environment ~