Fukuyama Port (Development of an International Container Terminal)
2010.3.31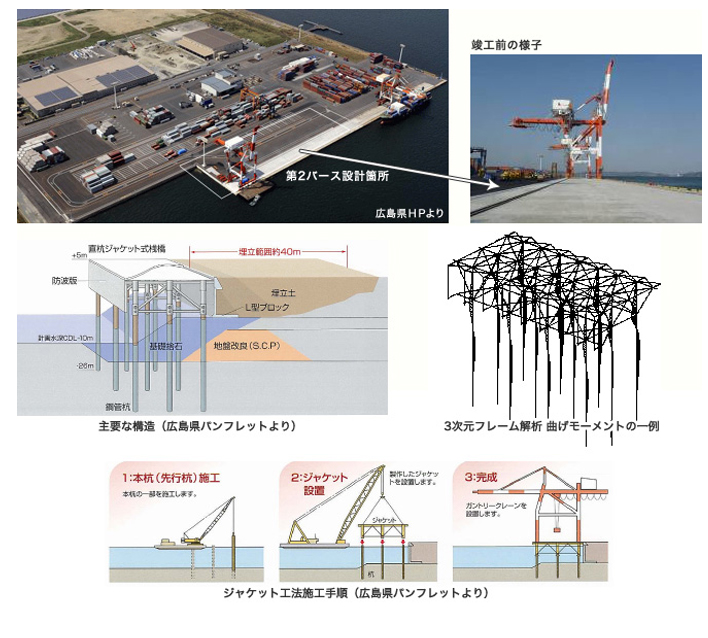 In 2005, the Fukuyama Port International Container Terminal (Berth No. 1) was completed to function as an international logistics base (with China and South Korea) in the eastern part of Hiroshima Prefecture. Berth No. 2 was planned and expanded to the west of Berth No. 1 to further increase the trade handling volume. For this work, EJEC was responsible for the basic as well as detailed design of this berth.
The main structure is the jacket type which is the first in Hiroshima Prefecture as a mooring facility.
The sand compaction pile (SCP) method was used to counter the soft ground.
Water granulated slag was used as reclamation soil (obtained from the nearby JFE Steel at low cost).
Precast boards were used for the superstructure, contributing to shortening the construction period along with the jacket construction method. The overall construction duration was approximately two years.
The employment of the entirely preceding pile method was unique in Japan.
In preparation for future development, the feasibility of introducing a simultaneous loading system with two gantry cranes (lifting load of 30.5 tons each) was examined.
Many difficulties were experienced during the design work, including the design of the rail foundations for the gantry cranes which required a high level of accuracy and also details of the members for three types of jackets of different sizes in the 3D frame analysis.
| | |
| --- | --- |
| Facility name | 10 m Berth (Berth No. 2) in Mino-oki Area of Fukuyama Port |
| Work title | Entrusted Work incidental to the Reconstruction Project for Fukuyama Port, as a Designated Major Port |
| Location | Mino-oki, Fukuyama City, Hiroshima Prefecture |
| Duration | FY 2008 and FY 2009 (Completed in March, 2011) |
| Implementing body | Eastern Region Construction Office, Hiroshima Prefectural Government |
Fukuyama Port (Development of an International Container Terminal)