Construction Management for Earthquake Disaster Reconstruction
2017.6.30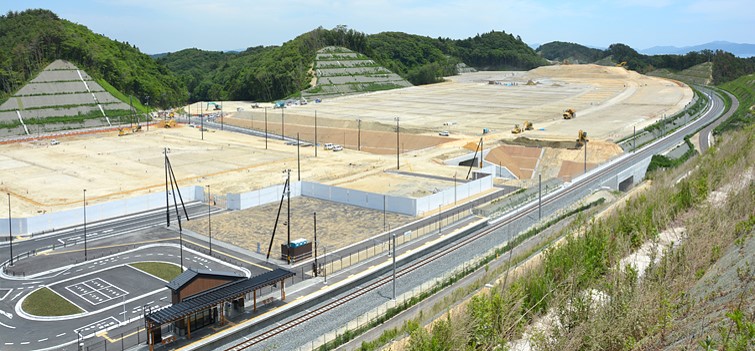 JR Sengoku Line links Sendai City with Ishinomaki City and the newly developed land
Higashi-Matsuyama City had experienced severe damages with a flood covering 65% of its urban area. The subsequent town reconstruction plan aimed at creating "a town highly resistant to tsunami" and the destination area for resettlement was selected inside newly developed multiple protection facilities (coastal seawalls, inland dykes, elevated roads, etc.)
The earthquake disaster reconstruction project for the Nobiru northern hillside district of Higashi-Matsushima City was designed to create elevated ground as the destination for resettlement and was ordered as a CM* type project to ensure the smooth progress of the project. The Urban Renaissance Agency was the project implementing body and EJEC and several other companies established a joint venture to proceed with the town reconstruction work.
Specifically, this joint venture acted as the CMR**, i.e. assistant and agent for the project implementing body, and conducted various types of management as the operator while maintaining its neutrality. EJEC was responsible for the management or surveying and the soil survey, and also prepared basic reference materials for the design work essential for the early development work.

CM*: CM stands for construction management where the client, designer and construction manager, a management specialist, uniformly conduct the operation and management of all aspects of the project.
CMR**: CMR stands for construction manager, a team of engineers performing CM. This manager (or team) examines the design and order placement method at the design, order placement and construction stages on behalf of the client and also conducts various management work, including process management, quality management and cost management.
The project in the Nobiru District was z large-scale work with a development land area of 91.5 hectares, a cut soil volume of 5.5 million m3 and public housing for 448 households.
Nobiru Station and Tona Station of the JR Sengoku Line were relocated to this newly developed land and the new railway line was opened on May 30, 2015 when the transfer of residential plots progressed. In October, 2017, the Nobirugaoka Town Opening Festival was held. As both the "urban area development work" and "post-disaster public housing development work" were completed in March, 2018, a reconstruction project completion ceremony was held.

Nobiru District, Higashi-Matsushima City, Miyagi Prefecture (highland area for resettlement)
| | |
| --- | --- |
| Work title | Primary Land Preparation Work in the Nobiru Northern hillside District; Nobiru Northern Hillside Improvement Workk |
| Location | Ushirozawa, Nobiru, Higashi-Matsuyama City, Miyagi Prefecture |
| Duration | November 3, 2012 to June 30, 2017 |
| Implementing body | Urban Renaissance Agency |
Construction Management for Earthquake Disaster Reconstruction