EJEC wins the best design award in a pedestrian bridge design competition held by Kobe Municipal Authority
2019.4.22
The proposal from EJEC has won the best design award in the design competition for a pedestrian bridge in front of the Customs Office in Kobe City.

The competition involves a project to rebuild a pedestrian bridge at the junction of Flower Road stretching southwards from Sannomiya Station and coastal National Route 2 in Kobe City.
There was a call for the construction of "an enticing pedestrian bridge" linking the Sannomiya District with Minatono-Mori Park across National Route 2 and further to the New Port Pier West Area where redevelopment work was planned.
With Professor Akiyoshi Nii (Kokushikan University) acting as an advisor and EAU, Ltd. acting as a partner, EJEC proposed a pedestrian bridge which was intentionally designed to have a soft and light curved appearance and its surrounding space.
When the competition result was announced by the Kobe Municipal Authority, the following three points were mentioned as the reason for the proposal to get the highest score:
The partial use of the Higashi Amusement Park produces a gently curved alignment while the soft curve created by the main tower and suspended cable structure successfully gives a sense of formative art.
The girder thickness of 500 mm is the thinnest among the proposals and the nimble design matches the surrounding environment.
The gradient of the approach road from the northwest of the bridge is 4% with a width of 5m, making this the gentlest and widest slope among the proposals. It can, therefore, be expected to create a safe, secure and pleasant space for pedestrian movement.
The proposal as a whole was evaluated as presenting a good balance of function, landscape and design in addition to having technological and managerial excellence.
As the winning firm will be entrusted with the preliminary design (basic design) work, EJEC will be able to show its strength in creating an endearing spaces together with Kobe citizens.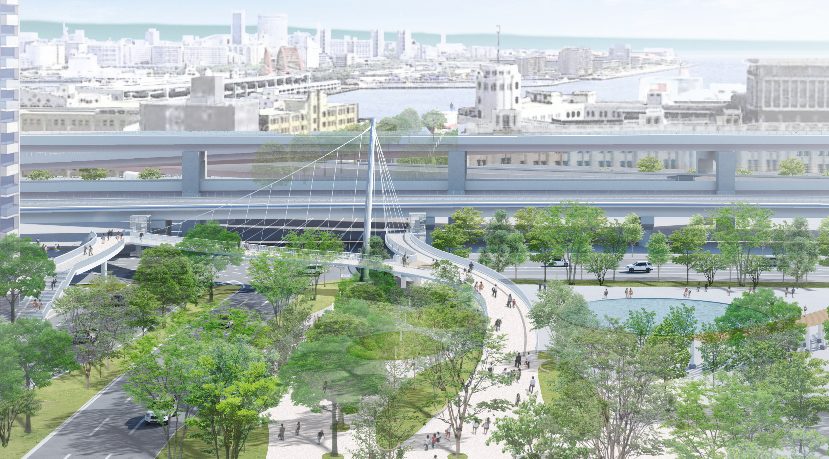 EJEC wins the best design award in a pedestrian bridge design competition held by Kobe Municipal Authority