Response to Disasters by Typhoon No. 12 of 2011 (Countermeasures for Landslide Dams)
2014.3.31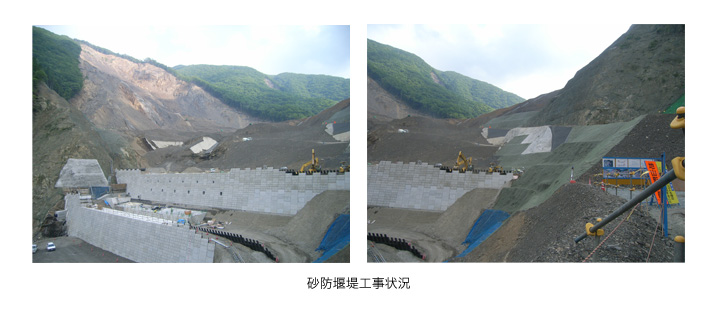 The typhoon No. 12 in 2011 created a deep-seated landslide and landslide dam in the Akadani District. To prevent erosion at the foot of this landslide dam, the work involved the detailed design for the No. 2 check dam, preliminary design as well as detailed design for the sabo dam (debris removal and management type) to catch sediment runoff in the downstream, preliminary design of consolidation works and torrent protection works in the downmost stream and preliminary design of the landslide dam section intended for an unmanned construction system.
The photograph features the check dam under construction.
The work received a commendation from the Head of the Kii Mountains Sabo Office.
| | |
| --- | --- |
| Work title | Design Work for Sabo Dams and other Emergency Countermeasures in the Akadani District |
| Location | Ohto Town, Gojyo City, Nara Prefecture (Akadani District) |
| Duration | October 4, 2013 to March 31, 2014 |
| Implementing body | Kii Mountains Sabo Office |
Response to Disasters by Typhoon No. 12 of 2011 (Countermeasures for Landslide Dams)