Sludge Regeneration Center for Eastern Greater Osaki Area
2011.9.30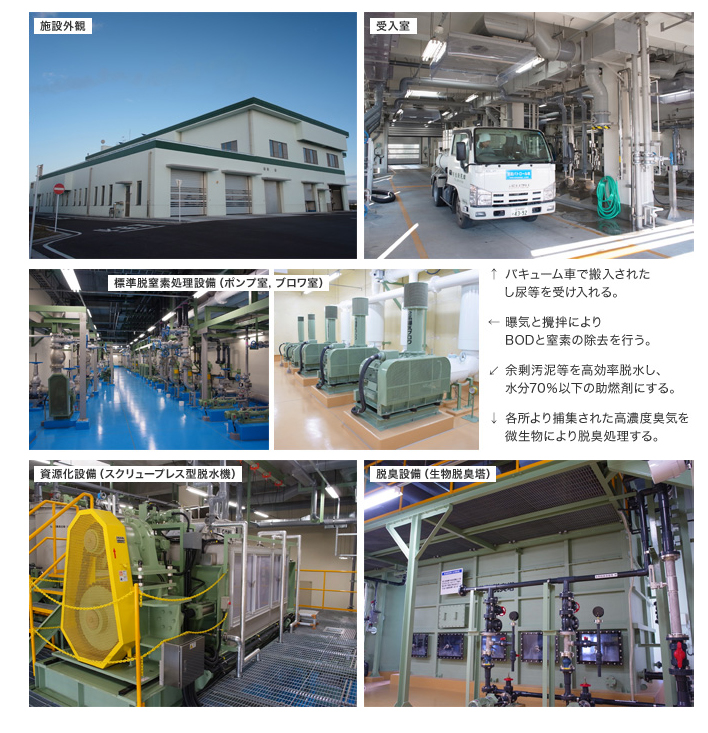 [Project Outline]
In this project, a deteriorated night soil treatment facility was renewed as an organic waste recycling promotion facility (sludge regeneration treatment center) in the interest of creating a recycling society, with subsidy from the Ministry of the Environment.
EJEC conducted a series of work, ranging from preparation of the basic plan for household waste water treatment, to survey on impacts on living environment, to local planning, to basic plan for the facility, to preparing order specification document and technical evaluation, all of which were related to the construction of the sludge regeneration treatment center, to the design and construction supervision for the new facility.
[Facility Outline]

Treatment capacity :

193 KL/day (night soil: 65 KL/day; sludge from septic tank: 36 KL/day; organic waste (agricultural sludge, etc.): 38 KL/day)

Water treatment method :

Standard denitrification treatment + advanced treatment

Recycling method :

Turning sludge to combustion improver
[Facility Characteristics]
Regarding water treatment method, the standard denitrification treatment method was employed in view of its strong resistance to load fluctuation and its excellent operation control performance. As for recycling method, the method to turn sludge into combustion improver (dewatering device: screw press type dehydrator) was selected in view of its low cost and the effective utilization of sludge. The installation of an exclusive combustion improver feeding system to the adjacent waste incineration facility was designed to minimize the load fluctuation in the furnace.
Conscious efforts were made to reduce the running cost. These included the use of dehydrated sludge as a dehydration auxiliary agent and reduction of the volume of chemical agents used by means of employing a biological deodorization system to deodorize the high concentration of offensive odour.
| | |
| --- | --- |
| Facility name | Sludge Regeneration Center for Eastern Greater Osaki Area |
| Work title | Entrusted Construction Supervision for the Construction of the Sludge Regeneration Center for Eastern Greater Osaki Area |
| Location | Wakuya Town, Tohda County, Miyagi |
| Duration | July 25, 2008 to September 30, 2011 |
| Completion | September, 2011 |
| Client | Broader-Based Administration Association for Osaki Area |
Sludge Regeneration Center for Eastern Greater Osaki Area