Ginza Street at the East Exit of Omiya Station
2012.3.31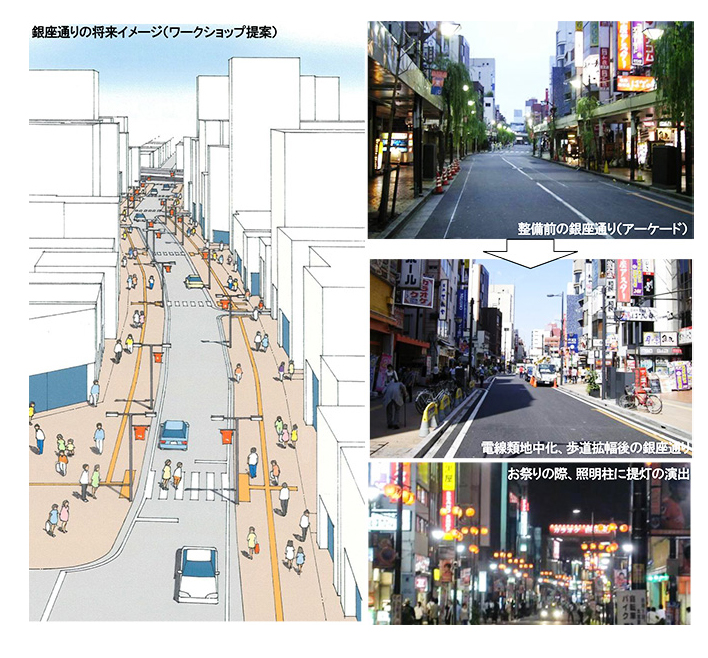 United efforts involving the shopping district and local residents continued on from FY 2005 for Omiya Ginza Street shopping district to create a pleasant road space following the work to relocate power lines and other utilities underground while developing a space creating a sense of unity with the station plaza. Subsequently from FY 2009, the old arcade was removed along with relocation of the power lines, etc. underground and road improvement. This renewal work was completed in September, 2012.
The work of EJEC included the organization of a workshop for local residents in FY 2005 to discuss the future state of Omiya Ginza Street, examining the required functions, street width and street design to create a pleasant road space. In FY 2006, EJEC clarified the pending issues to achieve the desirable state of this shopping street in the future and conducted a social experiment of particularly important traffic management. This experiment was conducted in September, 2007. Based on the findings of this social experiment, the direction for local development was finalized. The preliminary road design work was conducted in FY 2008 and EJEC was also responsible for the management of development work from FY 2009 and thereafter.
Through a series of such work, EJEC successfully completed the renewal of road space along Omiya Ginza Street, which formed part of the "Omotenashi (hospitable) pedestrian area", a critical part of the transport strategy for the district around Omiya Station.
Project title
Transport Safety Facilities Improvement Project (Project for Power Pole Burial; Pavement Improvement Project)
Work title
Examination of Basic Policies for the Development of East Station Plaza at Omiya Station (Town Development Public Design Center)
Basic study and examination concerning Ginza Street
Social experiment and study of traffic at Ginza Street
Preparation of a transport operation plan for Ginza Street
Preliminary road design (Municipal Route 20044)
Pavement improvement work (Municipal Route 20044) management business (road and traffic) and others
Location
Ginza Street at East Exit of Omiya Station
Duration
FY 2002 to FY 2012
Implementing body
Saitama Municipal Authority
Ginza Street at the East Exit of Omiya Station