Joint hosting of a technical seminar with National University of Civil Engineering of Vietnam
2018.9.19
On August 29, 2018, EJEC jointly hosted a technical seminar with National University of Civil Engineering (NUCE) of Vietnam.
The theme of this seminar was "Critical Urban Issues in Megacities and Solutions". Representing the Japanese (EJEC) side, 13 experts led by President Kotani, including an expert of Vietnamese origin, participated in the seminar. The seminar was held as part of a technical cooperation agreement between EJEC and NUCE, signed in December, 2017.

The seminar consisted of two parts. In Part 1, a keynote lecture was delivered by an expert of EJEC introducing the history of urban issues and urban development in Japan and described the efforts to deal with those problems associated with large Japanese cities. This was followed by presentations of five invited Vietnamese experts from five big cities in Vietnam (Hanoi, Ho Chi Minh City, Da Nang, Hai Phong and Can Tho), on the problems faced by these large cities. In Part 2, actual cases in Japan and Vietnam were introduced, focusing on such common problems in large cities as the effective use of public spaces, improvement of railway stations and other traffic nodes and solid waste management, etc. and concrete discussions were held on how to solve these problems.
EJEC intends to materialize the necessary projects while continuing to organize similar seminars to examine desirable ways of developing infrastructures to solve the various problems of large cities.
President Kotani greets the participants at the opening of the seminar

Audience crowding at the venue of the NUCE seminar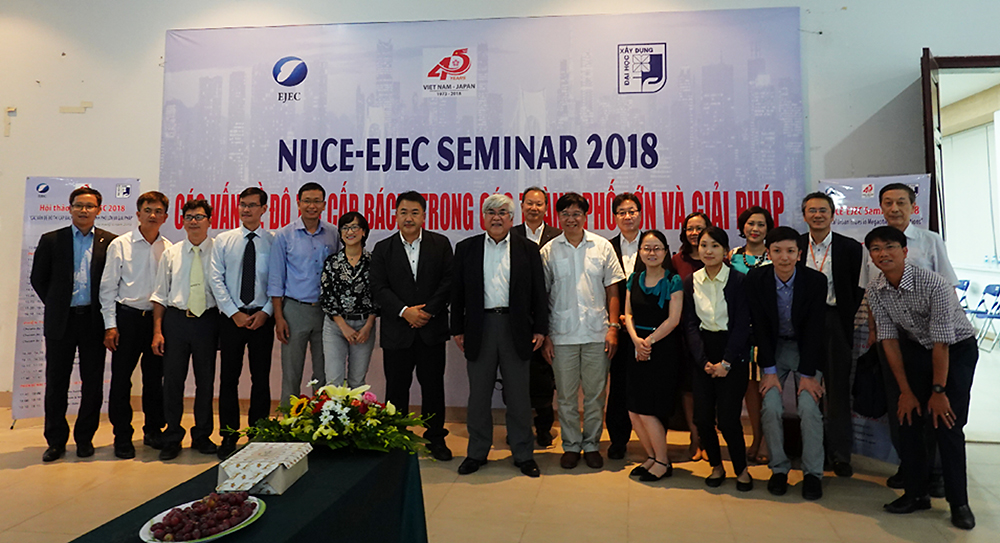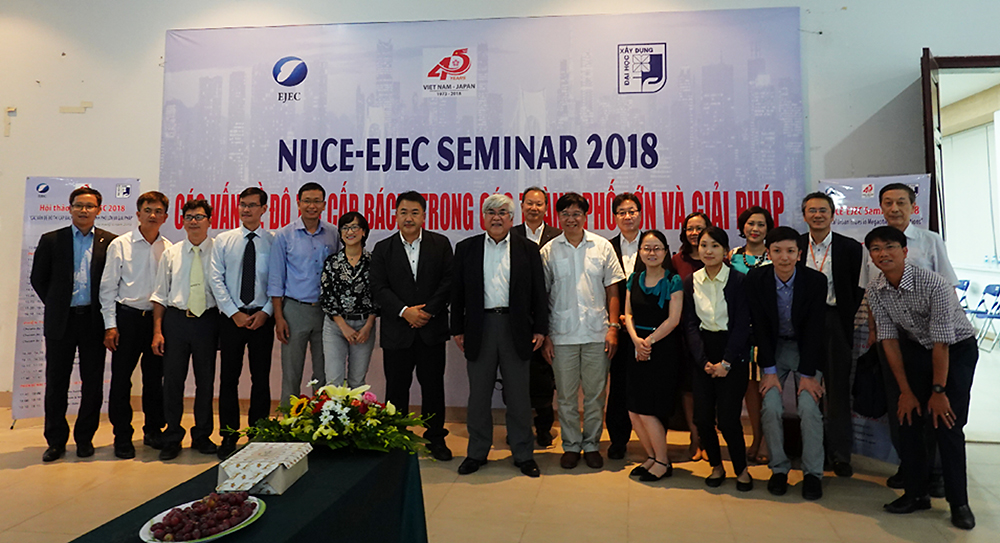 NUCE professors, EJEC experts and invited speakers from major Vietnamese cities at the seminar
Joint hosting of a technical seminar with National University of Civil Engineering of Vietnam