Design of the seismic strengthening of "Kiyosu Bridge", an important Japanese cultural property
2013.3.31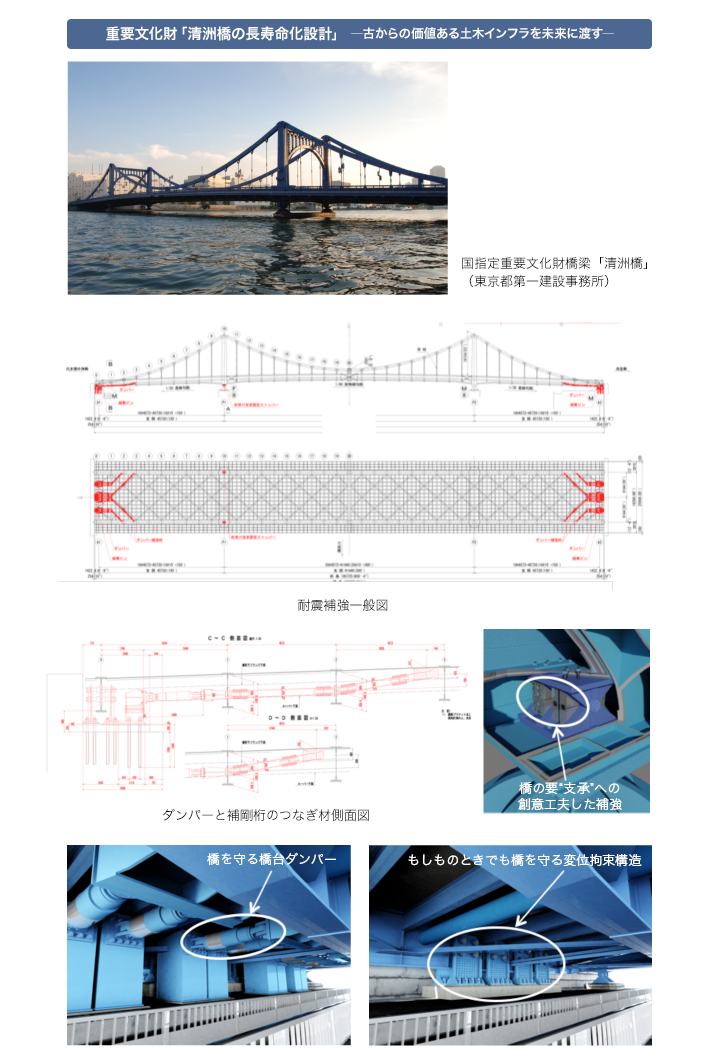 Bridge length and width: 186.233 m (47.396 m + 91.440 m + 47.396 m) and 108 m
Superstructure: steel 3 span continuous chain self-anchored stiffening suspension bridge (the only bridge of these specifications and type in Japan)
Substructure: gravity type abutments and RC wall type piers (surface mounting by granite)
Foundation structure: pneumatic caisson
Ground breaking year, etc.: March, 1925 to March, 1928
Implementing body: Reconstruction Bureau, Ministry of Home Affairs (constructed as a capital reconstruction project in the aftermath of the Great Kanto Earthquake)
Note: The bridge was designated by the government as an important cultural property on June 18, 2007. In 2002, its aseismatic performance was secured in line with the Specifications for Highway Bridges. Reinforcement work for the superstructure, substructure and foundation structure was no longer required because of the installation of dampers at abutments to minimize changes of the bridge appearance.
| | |
| --- | --- |
| Route name | Hamacho-Kitasuna Route (Kiyosubashi Street), a special designated road |
| Work title | Basic Design, Detailed Design and Revised Design for Prolongment of the Life of Kiyosu Bridge |
| Location | Nihonbashi-Nakasu, Chuo Ward to Kiyosumi, Koto Ward of Tokyo |
| Duration | October, 2009 to March, 2013 (Basic design, detailed design, revised design, handling of the committee and other work) |
| Implementing body | Construction Office No. 1, Bureau of Construction, Tokyo Metropolitan Government |
Design of the seismic strengthening of "Kiyosu Bridge", an important Japanese cultural property