EJEC won the JSCE's Outstanding Civil Engineering Achievement Award (Group II: Project for rehabilitation of drinking water supply systems in the Pyanj District, Khatlon Region, Republic of Tajikistan)
2017.5.30
The Project for rehabilitation of drinking water supply systems in the Pyanj District, Khatlon Region, Republic of Tajikistan, for which EJEC was responsible for design and construction supervision won the JSCE's Outstanding Civil Engineering Achievement Award (Group II). This award is given to selected "epoch-making projects which have made an outstanding contribution to the development of civil engineering technology as well as society".
(Winners) Tajikistan Khojagii Manziliyu-Kommunali, Embassy of Japan in Tajikistan, JICA, Dai Nippon Construction, EJEC
JSCE: http://www.jsce.or.jp/prize/prize_list/p2016.shtml#s02 (web site in Japanese)
Summary of the project
[Project title]
Project for Rehabilitation of Water Supply Systems in Pyanj District, Khatlon Region, Republic of Tajikistan
[Client]
Basic design: JICA
Detailed design, construction and construction supervision: Tajikistan Khojagii Manziliyu-Kommunali
[Construction/design and construction supervision]
Dai Nippon Construction and EJEC
[Project cost]
Total project cost: ¥1,816,182,200
[Project period]
March, 2013 to December, 2016 (3 years and 10 months from the basic design to project completion)
[Construction results]
Boreholes (with submerged pump: 56m³/hr x 4; 30 m³/hr x 2) Elevated water tanks (1,800 m³ x 1 and 250 m³ x 1)
Water distribution pipelines (PVC f75 ~ 250 mm x 95 km)
House water taps (4,767 sites)
Administration management building (1)
Borehole management building, including a disinfection room (2)
Procurement of equipment (maintenance vehicles; construction machinery and tools; piping materials)
In one town and six villages targeted by the project, 73% of the local population of some 25,000 (as of 2012) did not have access to the water supply service and local residents used unhygienic water from irrigation channels or shallow wells for domestic water.
The project envisaged the supply of clean water for 24 hours a day to some 29,000 people, taking the population growth rate up to 2020 into consideration.
The construction work encountered a geopolitical problem during the construction period and at one time faced a risk of cancellation. However, EJEC managed to obtain a permission for continued construction through close information sharing with the Embassy of Japan in Tajikistan, JICA and Dai Nippon Construction. Despite the difficult natural conditions and living environment, the work was completed within the planned period without any accidents.
The implementation of the project achieved a steady supply of safe water and greatly improved the situation of sanitation and daily life in the target area. Moreover, the construction of the first large RC elevated water tanks (1,800 m³ and 250 m³) in Tajikistan resulted in the successful transfer of the relevant construction technology, including quality control, to the Tajikistan side.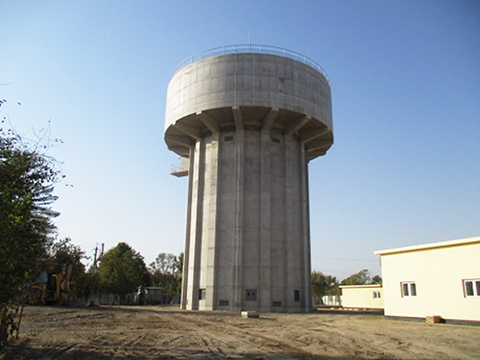 1,800 m³ elevated water tank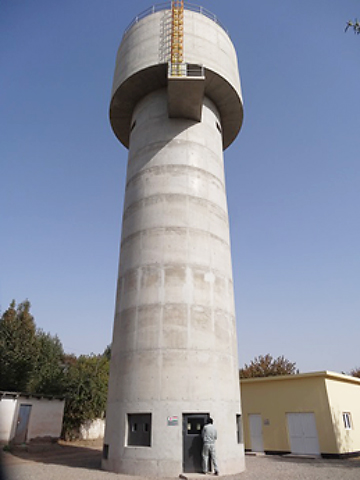 250 m³ elevated water tank
EJEC won the JSCE's Outstanding Civil Engineering Achievement Award (Group II: Project for rehabilitation of drinking water supply systems in the Pyanj District, Khatlon Region, Republic of Tajikistan)