East and West Station Plazas at Joetsu-Myoko Station
2015.3.31
Joetsu-Myoko Station West Exit

Joetsu-Myoko Station East Exit
With the opening of the Hokuriku Shinkansen line, Joetsu-Myoko Station was improved as an integrated station for both the new Shinkansen line and the old Shinetsu line by moving the tracks for the latter towards the new Shinkansen station.
Improvement around the station was conducted under a land readjustment project and station plazas outside the east and west exits were developed along with the project.
The planning of these plazas by EJEC was proceeded through consultation and coordination with a landscaping advisor of the municipal government and other designers involved so that the final landscape of these plazas would be integral to the local recreation areas, adjacent free passageways, etc.
For the East Station Plaza, covered alleys, which are a unique feature for regions with heavy snowfall, extend from the station building which is reminiscent of a Japanese lantern, creating a feeling of warm hospitality with a distinctive character. For the West Station Plaza, an expansive space with an unobstructed view of the Myoko Mountains is introduced along with the creation of a cherry-tree-lined path, which would become a local asset, to create a local identity for Joetsu and Myoko.

Joetsu-Myoko Station was opened in March, 2015.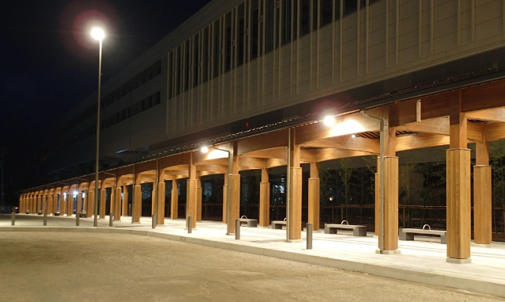 Sheltered passageway
| | |
| --- | --- |
| Work title | Entrusted detailed design work for the East and West Station Plazas at Joetsu Station of the Hokuriku Shinkansen (tentative name) |
| Contents | Detailed design of local recreation areas adjacent to the East and West Station Plazas, design of shelters, design of covered alleys, preparation and checking of perspective drawings and preparations for order placement for the construction work |
| Location | Yamato, Joetsu City, Niigata Prefecture |
| Duration | May 30, 2011 to February 28, 2013 |
| Implementing body | Joetsu Municipal Authority, Niigata Prefecture |
East and West Station Plazas at Joetsu-Myoko Station