Michi-no-Eki (Roadside Station) "Makuragano-Sato Koga"
2013.7.1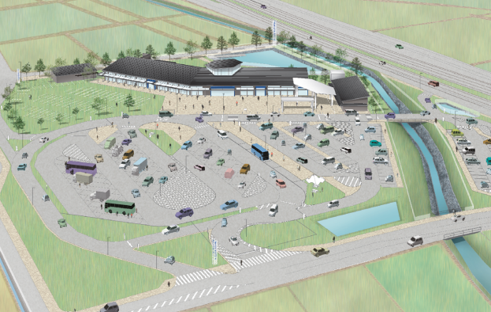 Perspective drawing of the entire area
The work related to the michi-no-eki was jointly planned by the Koga Municipal Authority and the MLIT.
EJEC was responsible for not only the formulation of the basic policies but also the design of the facilities and surrounding area, formulation of an operation and management plan and supervision of the construction work for this development of a michi-no-eki in Koga City.
Apart from the design of roads in the vicinity of the michi-no-eki and nearby intersections, EJEC also design a bridge, car park, planting and landscaping at the premises of the michi-no-eki. For the layout of the michi-no-eki facilities and image of the buildings, EJEC consulted with the Michi-no-Eki Examination Committee and WG so that the local requirements and opinions were reflected on the design. A multi-purpose hall was planned as a facility providing community space for users of the michi-no-eki, especially local users, so that it could function as a core facility for the local community.
The work of EJEC was diverse, ranging from the design of facilities to a series of consultation meetings with the main operator of the local regeneration facilities to be developed as well as expected project participants. Through these meetings, EJEC proposed the zoning of local regeneration facilities and an event utilization method as part of the operation and management plan. We also also proposed operation under the designated management system, a business plan for profit-making facilities and other relevant matters. During construction supervision, meetings were held and on-site inspection was conducted to ensure that the construction work was completed without failure.
Entrance to Michi-no-Eki Koga

Car park and local regeneration facilities
Work titles
FY 2009: Entrusted Work to Examine the Business Feasibility of a Michi-no-eki (Roadside Station) in Koga City
FY 2010: Entrusted Work to Prepare Referential Materials for Discussion by Stakeholder Organizations regarding a Michi-no-eki (Roadside Station) in Koga City
FY 2010: Detailed Design of a Roadside Service Facility in the Koga Area
FY 2011: Entrusted Work to Examine the Operation and Management of Michi-no-Eki Koga (tentative name), a Facility for Local Development
FY 2011: Detailed Design of the Landscaping Work for Michi-no-Eki Koga (tentative name) as the First Entrusted Work
FY 2011: Supervision of the Construction Work for Michi-no-Eki Koga and Regulating Pond and Detailed Design of the Construction Work for Michi-no-eki (Roadside Station) as the Second Entrusted Work
Location
Koga City, Ibaraki Prefecture
Duration
December 2, 2009 to October 31, 2011
Implementing body
Koga Municipal Authority, Ibaraki Prefecture
Michi-no-Eki (Roadside Station) "Makuragano-Sato Koga"