Design of Countermeasure for Landslides
2001.3.23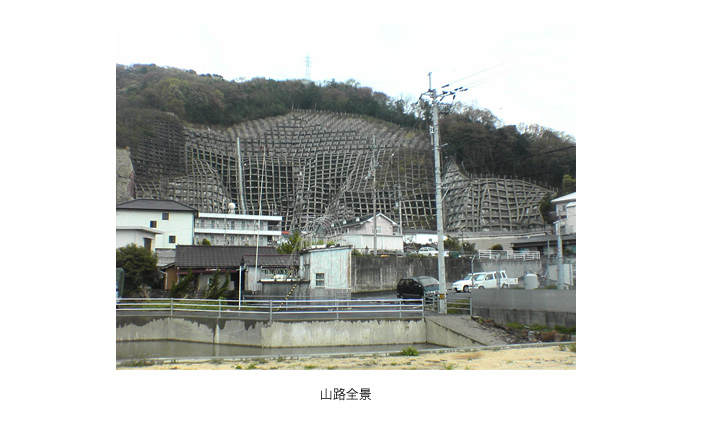 The work involved the initial examination and detailed design of a countermeasure for a landslide which took place at Shoyama, Kamona Town, Tokushima City on October 24, 2000.
The disaster site was part of "a mountain path landslide prevention area" under the jurisdiction of the Ministry of Construction. The foot section consisted of a steep rocky slope. The upper section was a gentle slope with a slope gradient of around 20°. The scale of the landslide was some 60 m in length, some 25 m in width and immediately evaluated after the disaster. in depth. Although there was no human damage, a huge amount of slid soil and boulders were deposited behind an apartment building. The residents of this building were immediately evacuated after the disaster.
Under these circumstances, it was decided that field and geological and geological surveys were to be conducted to examine a feasible countermeasure construction method for the purpose of the early recovery from the disaster.
The examination of a countermeasure led to restraining works (anchor works with a total of 440 anchors) based on a comprehensive judgement regarding the mechanism of disaster occurrence, urgency of the work at the site and safety during the construction work.
| | |
| --- | --- |
| Work title | Disaster-related Emergency Countermeasure against Landslides (Consignment Survey) |
| Location | Shoyama, Kamona Town, Tokushima City, Tokushima Prefecture |
| Work duration | December 2, 2000 to March 23, 2001 |
| Implementing body | Tokushima Civil Engineering Office, Tokushima Prefectural Government |
Design of Countermeasure for Landslides