EJEC's President Mr. Kotani greets the participants at the opening of the seminar

Seminar venue
On September 22, 2018, EJEC hosted the "Technical Seminar on Solution Technologies for Bridge Design and Maintenance to Mitigate Disaster Damage and Retrofit Existing Structure" jointly with the Myanmar Engineering Society at the latter's hall in Yangon, featuring bridges as the central theme.
This seminar focused on the importance of bridge design and maintenance against the background of early deterioration of existing structures typified by the collapse of a suspension bridge in April, 2018, damages to bridges due to flooding, etc. in Myanmar.
From Japan, Associate Professor Nagai of the University of Tokyo was invited to give the keynote address, followed by EJEC'sfive presentations, introducing its track record of experiences, extension of service life, reinforcement to combat earthquake damage, importance of countermeasures for ground subsidence and fluidization, etc. and basic river bridge planning as part of bridge development efforts in Japan.
From Myanmar side, representatives of the Bridge Management Department and Road Management Department of the Ministry of Construction, Yangon Technological University and Yangon City Development Committee attended the seminar and introduced current situations and efforts of their respective organizations.
Because of the rare opportunity to listen to quality presentations of active front-line experts and also because of the increasing awareness of the need for disaster prevention in Myanmar, the seminar attracted more than 300 people from various governmental bodies, universities, private enterprises, etc. The question and answer session was very lively, as many questions were asked about earthquake resistance, wind resistance and disaster prevention, leading to fruitful exchange of opinions.
In the coming years, EJEC is determined to strengthen its networks with the Government of Myanmar, local governments and universities and its relationship of cooperation with the Myanmar Engineering Society, all of which were established through the seminar. EJEC will also continue to explore and win contracts for social infrastructure development projects in Myanmar based on its strength in bridges and their maintenance as well as disaster prevention as stepping stones.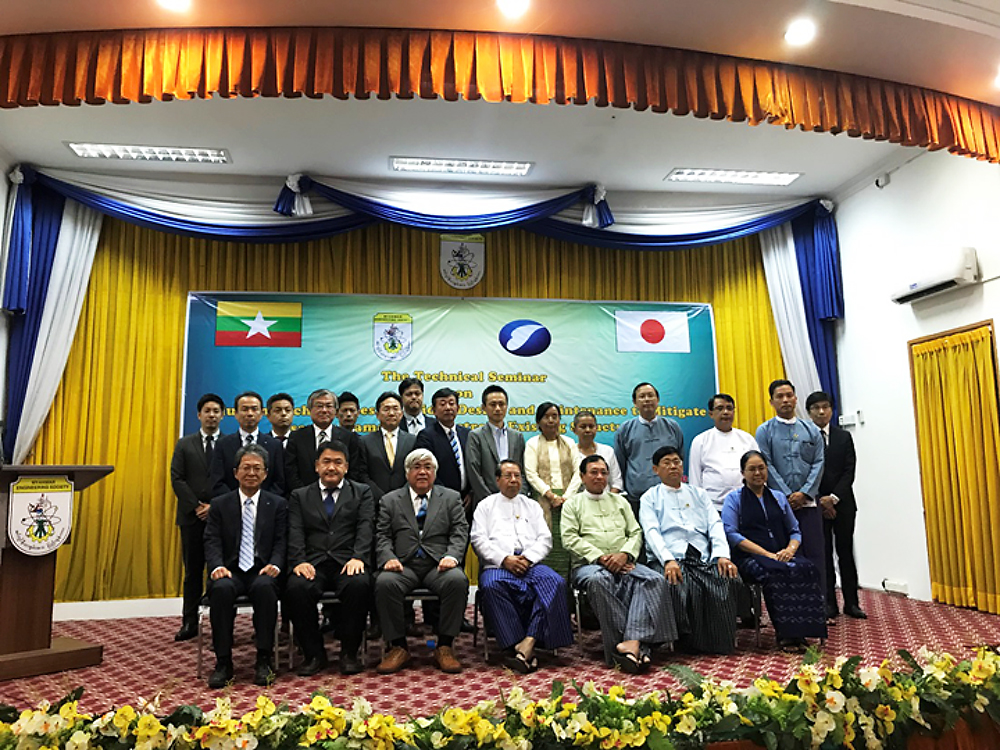 Myanmar government officials and EJEC staff participating in the seminar
Joint hosting of a technical seminar with the Myanmar Engineering Society